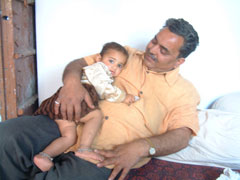 raghunath nama
Chaubundi is a traditional print design from rajasthan.

Raghunath Nama, belonging to a family of traditional Chippa hand block printers, is a creating an institution (...called Chaubundi) to sustain his craft for the future. He lives with his family and community in a village called Kaladera. The whole family participates in the process of creating and producing dyed and printed textiles.

Working in kaladera at Chaubundi Studio is an experience in itself. All experiments are adopted whole heartedly. Raghunath never says no to new ideas ... and one is welcomed (almost engulfed !) into his large family.

Therefore the output itself is not the whole, it is only a part of the process of creating the magic that is natural dyeing and printing and it becomes a permanent part of one's psyche. One becomes an addict.

Chaubundi and People Tree are twin souls.
- Sunny and Gurpreet