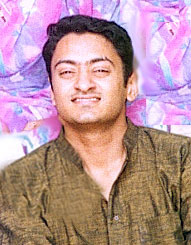 arjun
"Once he had to go somewhere and somebody was trying to help him by giving detail directions, that's when he said "it is ok, I would like to get lost a bit and then find my way"
Arjun had just finished his art studies and joined People Tree looking after the book section.
May be his short affair with People Tree was a part of this personal need for wandering. Though he claims he learnt a lot during this time, not just about art but about life and its nuances and mainly about himself. I don't know how all this could have happened, I only remember this lean frame with big eyes which would brighten up very often with ideas. He would sit and draw complicated, narrative sketches while getting confused with the daily books accounts.
The picture here is a recent one where he looks very different from before, happily plump and rather content. May be by now he has finished his' getting- lost' trips.
Though I hope his wanderings in the inner world are still on."
…sutanu
Arjun Kariyal now works as a professional animator and web page designer. Click here to visit his online showcase http://www.kariyal.com/